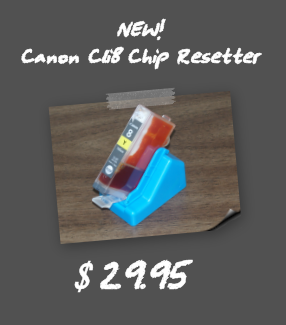 One of the largest problems with refilling cartridges for Canon Pixma printers has been the need to disable the ink monitor in the printer to reuse the cartridges. While this method worked, it made it difficult to keep track of the ink remaining in each cartridges.
Now there is a better solution. The SK155 chip resetter for Canon CLI8 and PGI5 cartridges is designed to reset your OEM cartridge chip back to full. This eliminates the need to disable the printer ink monitor, and reduces the risk of running cartridges dry.
Please note that the SK155 will only work with OEM Canon chips, not aftermarket chips.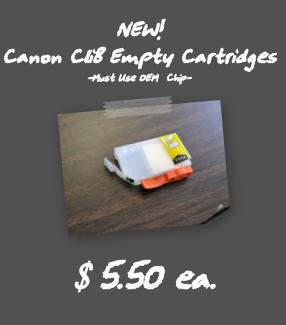 Now in stock! Virgin empty CLI8 and PGI5 cartridges for use in Canon Pixma printers. These cartridges are brand new and come ready to be filled. Click on the image above to find the cartridges for your printer.
The refill procedure for these new cartridges is identical to the refill procedure for OEM cartridges, so there is almost no learning curve to get up and running.
We recommend using our SK155 chip resetter to bypass the need to disable the ink monitors on your Canon printer.
Please note that these cartridges require the use of OEM chips in order to work, so you will need to save the chips from your OEM Canon cartridges and install them on these new cartridges.