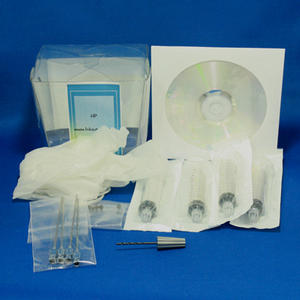 With and Inksupply.com Refill Kit and Bulk Bottled Inks refilling is both inexpensive and easy.  Refill details past the break.
K = Black C = Cyan M = Magenta Y = Yellow
61 Black= HP CH561WN 61 Tricolor= HP CH562WN
1. Remove label from top of cartridge
2. Tape over all holes except the one you are going to put ink into. Use scotch tape or black electrical tape.
3. Attach needle to syringe and load syringe with 5 cc of ink.
4. Set the cartridge on news paper or paper towel so the print head is in contact with the paper.
5. Insert needle into correct cartridge ink hole. Make sure needle reaches to bottom of cart.
6. SLOWLY inject the ink into the cartridge. Stop if the ink begins to well up from the fill hole.
7. Clean off top of cartridge, un-tape the next fill hole and tape over the one just filled. This is so you do not get accidental color contamination.
8. Repeat steps 5, 6, 7 until all colors have been injected.
9. Clean off the top of the cartridge. Place scotch tape over the top of the cartridge so it covers every hole.
10. Use a pin and put a small hole (vent hole) through the scotch tape for each hole on the top of the cartridge.
This is important, don%u219t skip this step. The cartridge must be vented to atmosphere or it will not work.
11. Reinstall in printer and run one or two cleaning cycles until the cartridge begins to print correctly. Do not exceed three cleaning cycles.
Get started saving today, you can find your refill kit at the link below..
Comments Closed