Wednesday June 20th is the longest day of the year. Summer Solstice marks the beginning of summer, and for many, the commencement of outdoor fun lasting from dawn till dusk. While you're out there splashing around, showing off that new bikini, or manning the grill, think about not only capturing your exciting moments on your camera, but print those bad boys! Instead of forking over hard earned cash on imitation art, use real life images to enhance your home or office. Beach settings are ideal; the natural background makes it easy to capture beautiful shots everyone will envy.
But what about harsh light and shadows you ask? No worries, check out Digital-photography-school.com for several tips on shooting on a bright summer day. The best time is just after dawn or before dusk while around noon is least ideal. Also, you do not need an expensive camera to get print quality photos. DPS also has great tips on shooting with an iPhone which can then be transferred to your computer and tweaked to your specifications.
Currently Inksupply.com is running a sale on accessories. Right now get 15% off, (shhh, you can get free shipping over $50 on top of the savings since no promo code is needed!) now is the time to stock up on cleaning solution or replace odds and ends that have found themselves seemingly lost along with all the left socks after laundry day
Get ready for Memorial Day weekend by finding a new way to save yourself a ton of cash. Now is the time to order that refill kit you've been thinking about. Now is the time to try something new.
Some of you have heard of bulk ink refilling, however, are worried it would be too awkward, time consuming, or messy to try. Today I challenge you to give the idea another look. Inksupply.com is offering select refill kits at a significant savings- UP TO 45% OFF in an effort to prove to you how  fast and simple the process really is. We have straightforward instructions available for every cartridge type we sell, and many of them also have YouTube videos to help along the way. If you're at all nervous about refilling
Each refill kit contains cartridges, 2oz ink bottles, and all filling supplies (needles, syringes, gloves, etc). The number of cartridges and ink bottles provided will depend on which printer you have, so be sure to look for your particular printer model when ordering. If you have any trouble finding your printer, please give us a call or contact us via email/live chat; any one of our friendly associates will be happy to help.
The inks provided with the kits will be formulated for your specific printer as well. Enjoy significant savings without losing quality. Inksupply.com bulk inks are proudly made in the USA and will perform as well as or better than the original manufacturer's ink.
Stop by Inksupply.com today and see how much you can save by refilling your own cartridges.
Select your printer - Buy your kit - Save your money!
Pretty pastels, bright whites, bold yellows, and flashes of magenta flourish during Easter gatherings. For families with children, the highlights this weekend included visits to the mall for Easter bunny photos, church, or other social gatherings, which likely included the all-important egg hunt. Just like any holiday, pictures with the bunny were only a mere drop in the photobucket. Moms, Dads, and anyone else hoping to capture new memories can relish in the wonder of spring colors naturally making their way onto their computers and vying for a spot amongst the favorites - the ones you want to print.
This year when exploring through the pictures you've captured, think about the women in your life who deserve remembering on Mother's Day, May 13th. Printing your photos instead of sharing them via social media or e-mail is much more personal and can give a gift so much meaning. Check out this Better Homes and Gardens article on homemade Mother's Day gifts - truly unforgettable. Ideas from simple keepsake boxes to glass container photo displays; these ideas are not only unique and memorable, but also affordable and last longer than flowers.
Speaking of which, while Mothers do enjoy the sweet smell of Lilac and bold offering of the Hydrangea, think how blown away she'll be if these springtime staples are offered with a homemade card having a professional look. Give a flawless gift made right from home using your printer and ink from Inksupply.com. For those of you using Epson, check out our K4 inksets. These inks are a direct equivalent to Epson's K3 (no flushing required) and are guaranteed to give you results as good as- or better than- your originals. We also offer Vivid Magentas for select Epson models, giving your prints a wider range of astonishing color. Combine your printer with our inks and our photo papers then you will see how pictures can be turned into art.
After you've printed your photos, please share with us! We would love to see your creativity during this budding time of year
Head over and post what you came up with on to our Facebook and help inspire others.
If you have any questions regarding compatibility, please check Inksupply.com for information on your printer model. You can also comment here, email, or call one of our associates for further details.
If you're tired of the ultra ordinary cookie cutter wrapping paper and are dying to show people your printing prowess at the next gathering, take a look at this great idea presented by Photojojo. They show us how easy and fun it is to use the great photos captured during the year as wrapping paper.
You'll want to use regular, thin copy paper so the gift is easier to wrap. Also, be sure to cut the edges as a border will only cut up the image making it less appealing. Measuring the box to be wrapped is essential and depending on the size you may want to tile the image.
Just think of the possibilities! Grab a funny or especially striking photo, or maybe create something new using the persons name. Not only is this a great way to personalize your gifts, but you'll save a ton of $$$ since you're no doubt a loyal Inkhead and get all your ink supplies from Inksupply.com which allow for great prints at a fraction of the cost. Who knows, the recipient may even like gift better wrapped!
Hurry in and stock up on bulk ink while prices are hot! Right now you can save 15% on 4oz. bottles, 10% on pints, and 5% on all gallons. Don't forget, tomorrow 12/22/2011 is our last day for shipping until January 3rd so ACT FAST and we'll get your order out right away.
Saving money and the world can go hand in hand. If you are a recent fan of Inksupply.com or using refillable cartridges you have to read this... find out what the big companies don't want you to know and how to break free from their ink controlling clenches.
Bankroll benefits

:

If you live in a state with bottle deposit returns you are probably accustomed to recycling the cans and bottles to get your 5 or 10¢ back. It all adds up, and even if you aren't particularly worried about going green, you are helping the environment while getting your deposit back. With refillable ink cartridges you are doing the same service, only better because you save up to 80%off the price of original cartridges depending which route you take. Get the easy to use remanufactured variety, or save even more moolah when you refill yourself by purchasing the empty cartridges and bottles of ink. Worried about making that transition? No need, it is easier than you think... we have entire kits created for each printer so you are sure to have all the supplies you'll need to get going. On top of these savings, all doubt is removed by backing it up with a 60 day warranty and providing technical support no matter how old your purchase.
Eco-ink benefits:
According to benifits-of-recycling.com, only 20-40% of ink cartridges are being recycled. While this is a good start, it also means 60-80% are winding up in landfills. For those buying OEM's, 55.6 million American consumers are throwing out their empty cartridges instead of recycling them (Harris interactive poll, 2008). Not only do those cartridges account for over 40 million lbs. of waste in America's landfills but they also take more than 1000 years to decompose. By using refillable cartridges we have the potential of cutting that number in half. (DALLAS, Dec 28/PRNewswire) Keep in touch and watch for new ways to both save and go green with InkSupply.com products. If you're joining us for the first time do yourself, your world, and your pocketbook a favor by trying these on for size. See how they compare, notice the exemplary quality, and judge for yourself. Think about all the effort put forth recycling paper, cans, even building materials. Our world is one of consumption, and this will not change. However through collaborative efforts we can sustain a planet which can provide a robust environment for future generations.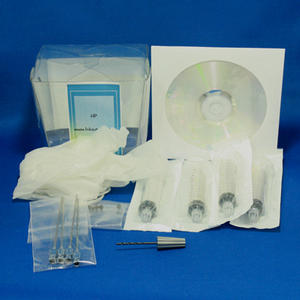 With and Inksupply.com Refill Kit and Bulk Bottled Inks refilling is both inexpensive and easy.  Refill details past the break.
Is your printer missing nozzle check lines, banding or missing color all together? Possibly looking for an efficient way to store your printer?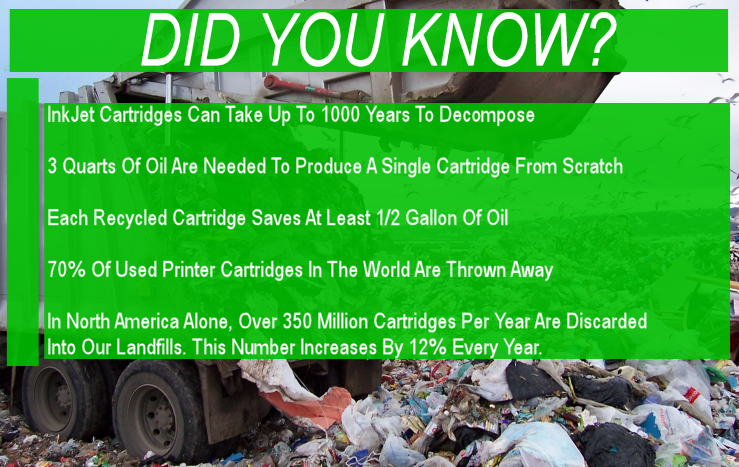 At InkSupply.com we are conscious of the fact that everyone needs to do their part in assisting with the upkeep of the place we all live. We have found that a great deal can be done when working with ink cartridges, so we take steps in the research and development of our products to help extend the life of our products while allowing you to save money in the process. Not using one of our kits yet? Click on the image and select your manufacturer on the linked page that follows to get started.
GO
Using 20% less ink, is a huge savings. How is it done? How about putting little holes in all of the characters you print to reduce the surface area by 20%. Hmmm... how would this font look.
This was developed by SPRANQ creative communications in the Netherlands. It is Open Source and free to download and use.
Go here to read more and download.
http://www.ecofont.eu/ecofont_en.html
I just discovered this, so I have not had time to validate the savings that is claimed, but I have printed with it, and it looks fine. The logic seems correct.
It is a great idea. Why not save some ink, and money, and help the planet a little.