Building on their popular 4 color pigment lineup, Epson has recently released a refresh to their popular business oriented WorkForce All-In-One lineup.  If you are in the market for a feature rich color document printer for your home or office, it is worth taking a serious look at Epson's latest and greatest.
With OEM Epson XL Capacity Cartridges starting at $29.99 Black/ $16.99 Color, we estimate an OEM cost of $0.016 per print.  With an Inksupply.com REF-T200XL-4-KIT Refill Kit, the cartridge costs drop to  $2.50 Black & Color, and an estimated cost of $0.003 per print for a black print.
Pros:
-4 Color Pigment for colorful and durable prints.
-Easy Connect with USB or WiFi
-Fax or Scan with built in document feeder
-Print up to 9ppm Black or 4.7ppm Color
-Price: Starting at $99
-Big Savings with Inksupply.com REF-T200XL-4-KIT Refill Kit
Refill Kits, Cartridges and Bulk Ink available for:
Epson Expression Home XP-200
Epson WorkForce WF-2540
Epson Expression Home XP-300
Epson Expression Home XP-400
Epson WorkForce WF-2520
Epson WorkForce WF-2530
*Cost Per Print based on black text with 5% page coverage.
Get ready for Memorial Day weekend by finding a new way to save yourself a ton of cash. Now is the time to order that refill kit you've been thinking about. Now is the time to try something new.
Some of you have heard of bulk ink refilling, however, are worried it would be too awkward, time consuming, or messy to try. Today I challenge you to give the idea another look. Inksupply.com is offering select refill kits at a significant savings- UP TO 45% OFF in an effort to prove to you how  fast and simple the process really is. We have straightforward instructions available for every cartridge type we sell, and many of them also have YouTube videos to help along the way. If you're at all nervous about refilling
Each refill kit contains cartridges, 2oz ink bottles, and all filling supplies (needles, syringes, gloves, etc). The number of cartridges and ink bottles provided will depend on which printer you have, so be sure to look for your particular printer model when ordering. If you have any trouble finding your printer, please give us a call or contact us via email/live chat; any one of our friendly associates will be happy to help.
The inks provided with the kits will be formulated for your specific printer as well. Enjoy significant savings without losing quality. Inksupply.com bulk inks are proudly made in the USA and will perform as well as or better than the original manufacturer's ink.
Stop by Inksupply.com today and see how much you can save by refilling your own cartridges.
Select your printer - Buy your kit - Save your money!
New, easier to use Wide Mouth Bottles are now available! The new bottle is a 4oz that allows you to reach the bottom of the bottle when refilling your cartridges. If you've refilled with us before, then you remember how cumbersome it could be to tilt the bottle as the ink ran low. Since we are dedicated to making the refill process as easy as possible, we will also be unveiling the shorter, wider bottle in the 2oz size (that comes with most refill kits) within the next month.
Visit Inksupply.com and find your printer to get the high quality bulk ink you know and love in the updated, user-friendly bottles.
Questions or comments? Feel free to leave them here or visit us on Facebook. Not only can you share your experience with us and other customers, but you can also find exclusive savings and notifications when new products become available.
Early November we released the CLI8/PGI5  cartridge kits with auto reset chips. The good news was obvious; you no longer needed to swap the chips from the OEM cartridges onto the empty refillables.  Yet one small disclaimer indicated they were only available in sets of 4 & 5… not individually and not in a complete refill kit.  Just in time for the holidays we are excited to expand the CLI8 offering to include the kits containing photo magenta, photo cyan, red, and green (where applicable). Also, you can replace individual cartridges for any color position with the auto reset chip equipped CLI8/PGI5 cartridges.
Like to print your own holiday pictures? Select your printer below, grab a refill kit and you're eligible to receive 30 FREE sheets of premium glossy photo paper. Just our way of thanking our dedicated Inkheads during the holiday season, hurry in though this offer only lasts until midnight 12/18/2011!
4 Color Printers
5 Color Printers
6 Color Printers
7 Color Printers
8 Color Printers
Most people refill cartridges using needles and syringes. While this is a great option to save money and satisfy your ink filling needs some customers wanted another option- as a result we released the MIS Squeezer Caps. Soon after the release  we received feedback expressing the need for some minor improvements.
You spoke- we listened... Inksupply.com is very proud to provide you the new & improved threaded MIS Squeeze Caps, now complete with an O-ring and lure lock cap. Follow these simple steps to a quick, clean and easy refilling experience.
Easy as 1 2 3
1. Attach the needle to the top of the squeezer cap fitted with the lure lock.
2. Unscrew the original bottle cap .
3. Screw the squeezer cap onto the bottle ... FILL THOSE CARTRIDGES!
These caps are for use on MIS 2 oz bottles and can be found on our accessories page.
Many  Canon printers use CLI8 and PGI5 cartridges, and for a long time our faithful Inkheads have had to swap the chips from the OEM's and attach them on our aftermarket refillables in order to have them operate correctly. While it is a relatively easy task, it is still another step to getting what you want and taking precious moments away from other, more important things... Like printing
I'm pleased to inform you that you can now truly have what you want. Check them out below; we have in stock cartridge kits for the printers requiring  the CLI8/PGI5 set up, but now with auto resetting chips (And the crowd goes wild)!! You can skip the daunting task of moving those tiny little chips over from one cartridge to another and get straight to point of placing it into your printer after filling. The auto reset function also means you will not need a chip resetter, simply wait for your printer to indicate the cartridge is low before you complete the refill. Then, place the full cartridge back into the printer & tada, the cartridges will be recognized as full once again.
F.Y.I., These cartridges are currently only available as a 4 set or 5 set and if you order an entire refill kit you will receive the cartridges needing the OEM chips. Should you have any questions or need help placing the order feel free to contact us.
4-set Compatible Printers:
5-set Compatible Printers:
Saving money and the world can go hand in hand. If you are a recent fan of Inksupply.com or using refillable cartridges you have to read this... find out what the big companies don't want you to know and how to break free from their ink controlling clenches.
Bankroll benefits

:

If you live in a state with bottle deposit returns you are probably accustomed to recycling the cans and bottles to get your 5 or 10¢ back. It all adds up, and even if you aren't particularly worried about going green, you are helping the environment while getting your deposit back. With refillable ink cartridges you are doing the same service, only better because you save up to 80%off the price of original cartridges depending which route you take. Get the easy to use remanufactured variety, or save even more moolah when you refill yourself by purchasing the empty cartridges and bottles of ink. Worried about making that transition? No need, it is easier than you think... we have entire kits created for each printer so you are sure to have all the supplies you'll need to get going. On top of these savings, all doubt is removed by backing it up with a 60 day warranty and providing technical support no matter how old your purchase.
Eco-ink benefits:
According to benifits-of-recycling.com, only 20-40% of ink cartridges are being recycled. While this is a good start, it also means 60-80% are winding up in landfills. For those buying OEM's, 55.6 million American consumers are throwing out their empty cartridges instead of recycling them (Harris interactive poll, 2008). Not only do those cartridges account for over 40 million lbs. of waste in America's landfills but they also take more than 1000 years to decompose. By using refillable cartridges we have the potential of cutting that number in half. (DALLAS, Dec 28/PRNewswire) Keep in touch and watch for new ways to both save and go green with InkSupply.com products. If you're joining us for the first time do yourself, your world, and your pocketbook a favor by trying these on for size. See how they compare, notice the exemplary quality, and judge for yourself. Think about all the effort put forth recycling paper, cans, even building materials. Our world is one of consumption, and this will not change. However through collaborative efforts we can sustain a planet which can provide a robust environment for future generations.  
About a month ago, we released the Epson T125x cartridges. No doubt you have questions but to start with let me give you the best part of this good news; first, they have ANYTIME RESET CHIPS. That means no waiting around in wonderment.  Second, QUICK & EASY to refill or a.k.a. newbie & super busy friendly. Finally, we carry COMPLETE KITS to get you started so even if you've never done this before- read on my fellow Inkheads- it's better, faster and more cost effective than you've ever imagined.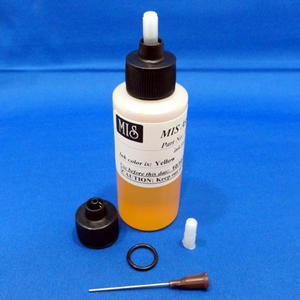 Many customers have been requesting alternatives to syringes for filling their inkjet cartridges. The new Inksupply.com Squeezer Fill Caps answer that call. These new caps are designed to fit our 2oz ink bottles and offer a luer attachment to allow the use of any size needle.
Have a Canon printer using the CLI-226 cartridges? Are you finding yourself asking, why-o-why can't I find a chip resetter for these? Here's the deal... no chip resetting (auto, quick, or otherwise) instead you need to disable your printers ink status monitor to reset the cartridges after refilling. No worries, we're here for you!
Once you see the message alerting you to the fact one or more cartridges are empty, you will click "OK" to continue.
Another message will appear saying something like, "an ink tank that was once empty is installed . Printing under this situation could damage the printer". Click yes to continue.
The next message will say something similar to "Canon shall not be liable for any printer malfunction or damage caused by refilled ink tanks". Again click yes to continue.
Finally, you will see a message similar to, "Press and hold the resume button for at least 5 seconds then release it. This operation will release the function for detecting the remaining level of the following ink..." Press & hold resume on the printer now.
That's it!! Pretty much all you're doing here is saying OK to the printer's warnings, then press and hold the resume button.
Keep in mind, depending on your exact printer model, it may have the warnings worded slightly differently... but will mean the same thing. Same with the resume button; on your printer it may say stop, OK, etc., the point is, it is the same button you would be pushing if you were to clear an "out of paper" error or something similar.
One last thing to keep in mind, you will have to repeat this process with each cartridge that goes empty, but only the first time. After this you have successfully disabled your printers ink level monitor. Just remember: now you need to keep an eye on your ink levels!